5 Easy Steps to Clean and Polish Your Alloy Wheels
Alloy wheels are an excellent choice for your vehicle. They're sleek, lightweight and durable – what more could you need? However, in order to keep your alloy wheels in great condition, they require proper maintenance. It doesn't have to take hours to clean, polish and wax your alloy wheels to perfection. With regular cleaning (just as often as you wash your car) and correct technique, your alloy wheels will shine like new.
1. Assess the condition of your alloy wheels
Alloy wheels are susceptible to damage for many reasons, including:
Corrosive brake dust
Stones
Potholes
Kerbing
Incorrect cleaning agents
Before you begin to clean your alloy wheels, check over each tyre to see if there's any damage that would need a professional to look over.
Brake dust is made up of iron particles caused by the grinding motion of the brake pad and rotor. This highly corrosive material settles over wheels and can cause permanent damage.
2. Remove loose brake dust from your alloy wheels
It's best to clean your alloy wheels before you wash your car to prevent any dust or dirt from splashing onto your newly cleaned vehicle. A warm day is ideal to clean them, but avoid doing it in direct sunlight.
Thoroughly rinse each alloy wheel with water to remove any loose dirt or grime settled on the surface. A hose will allow you to reach inside the spokes and tricky corners.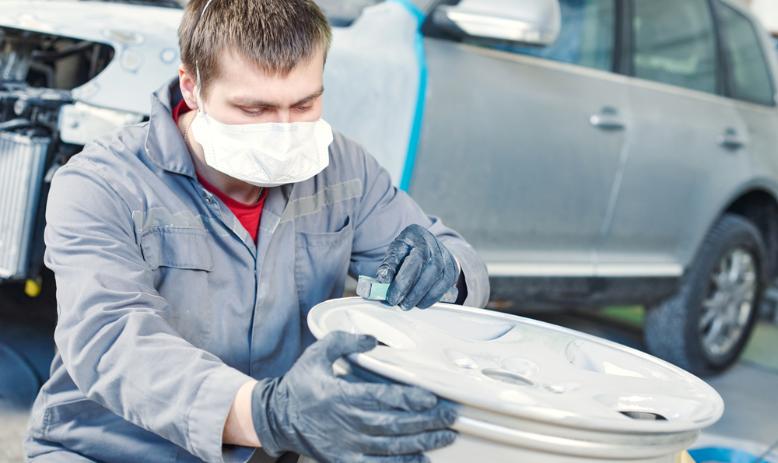 3. Clean your alloy wheels
Using an alloy wheel cleaner, spray each wheel individually. It's important to use a wheel cleaner formulated specifically for alloy wheels to avoid causing damage.
With a soft sponge, microfibre towel or soft bristled wheel brush, gently scrub each wheel thoroughly and carefully. You won't want to use any brush that's too abrasive and could potentially end up with scratched alloy wheels.
Be sure to reach into every crevice for a complete alloy wheel clean.
4. Dry your alloy wheels
Run a clean, dry towel over your wheels immediately after cleaning to stop water spots from appearing.
5. Give your alloy wheels a good polish and wax
For the finishing touch, polish or wax your alloy wheels until they shine beautifully. The polish or wax you use will depend on the finish on your wheel. For example, a shadow chrome finish will require a chrome polish, and coated or painted alloy wheels will require a polish that will protect the finish. Use a clean rag to apply your polish or wax, and buff the wheels until glossy.
Have your alloy wheels been damaged by brake dust? Advantage Alloy Repairs performs alloy wheel repairs and refurbishments in Brisbane. Contact us today to receive a quote.